Visit an ACPNY Medical Office
AdvantageCare Physicians joins House Democratic Leader Jeffries, HHS Secretary Becerra in call to improve care for seniors and lower medicine prices
Federal leaders and NYC Health Commissioner discuss reducing healthcare disparities and providing affordable care at ACPNY in East New York
07/12/2023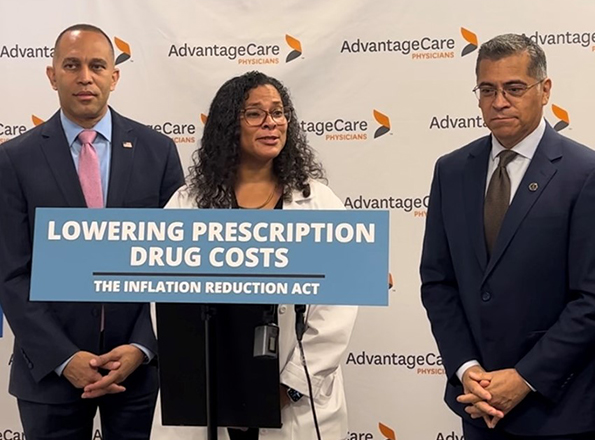 House Democratic Leader Hakeem Jeffries (left) ACPNY Dr. Navarra Rodriguez (middle), and HHS Secretary Xavier Becerra (right) host a press conference on improving medication costs for seniors at AdvantageCare Physicians in East New York, Brooklyn on Friday, June 30.  Source: AdvantageCare Physicians
BROOKLYN, NY – AdvantageCare Physicians (ACPNY), one of the largest primary and specialty care practices serving the New York metropolitan area, hosted United States Representative and House Democratic Leader Hakeem Jeffries (NY-8), United States Secretary of Health and Human Services Xavier Becerra, and New York City Department of Health and Mental Hygiene Commissioner Dr. Ashwin Vasan for a roundtable discussion on improving the costs of medicine and visit at ACPNY's East New York Medical Office on June 30.
The leaders were joined by community members, patients, and representatives from the American Association of Retired Persons (AARP) for a group conversation on the importance of lowering the prices of prescription medications for seniors, safeguarding the Inflation Reduction Act (IRA), and ensuring Medicaid members are enrolled in health coverage following the end of the national COVID-19 public health emergency earlier this year. Participants shared their stories, and ACPNY President and Chief Medical Officer Dr. Navarra Rodriguez moderated the discussion.
"For our steadfast team of providers and healthcare professionals at AdvantageCare Physicians, meeting our patients where they are, in their communities, is at the core of what we do," said AdvantageCare Physicians President and Chief Medical Officer Dr. Navarra Rodriguez. "I am proud to moderate this roundtable with our federal and local leaders and to continue to highlight the range and diversity of care services we deliver to East New York individuals and families, and throughout all of our medical office locations, when patients walk through our doors."
"No one is more concerned than this Administration, from the President on down, with making sure people have the coverage and care that's right for them. Everyone deserves health care that they can afford," said U.S. Department of Health and Human Services Secretary Xavier Becerra. "I am proud to partner with our local healthcare leaders and practices to echo the call for lower healthcare costs and better access to care."
AdvantageCare Physicians East New York practice is in a Designated Medically Underserved Area and Primary Care Health Care Provider Shortage Area as identified by the federal government. The practice offers primary care as well as 11 specialties in care. The site is also collocated with Quest Laboratories, One Brooklyn Health, Lenox Hill Radiology, Advanced Dermatology, NY Cancer and Blood, and EmblemHealth Neighborhood Care.
Neighborhood Care collaborates with ACPNY to further identify and help address patients' social determinants of health. Care Navigators perform proactive outreach and work one-on-one with patients to connect them to community resources ranging from social services to mental health services. Members of the community can also come to Neighborhood Care for free health and wellness classes and assistance navigating health plans to help work through barriers to accessing care and foster healthier living.  

About AdvantageCare Physicians
AdvantageCare Physicians, one of the largest primary and specialty care practices in the New York area, provides quality, personalized care that is focused on the whole patient. With 30+ medical offices across the five boroughs and Long Island, serving more than half a million patients. AdvantageCare Physicians takes a team-based approach to care where physicians work with nurses, social workers, nutritionists, behavioral health specialists and other professionals. Visit acpny.com to learn more.

About EmblemHealth Neighborhood Care
With 13 locations across New York City and Long Island, EmblemHealth Neighborhood Care provides in-person and virtual customer support, connections to local resources, and free programs to support community health and wellness. Each Neighborhood Care location features Customer Care Navigators who live in the communities they serve, ensuring that they can help customers navigate barriers to health in a personalized way. For more information, call 800-447-0752 or visit emblemhealth.com/neighborhood.