Contact:            
EmblemHealth Public Relations Office | Email: press@emblemhealth.com
Olivia Frasca | Email: ofrasca@emblemhealth.com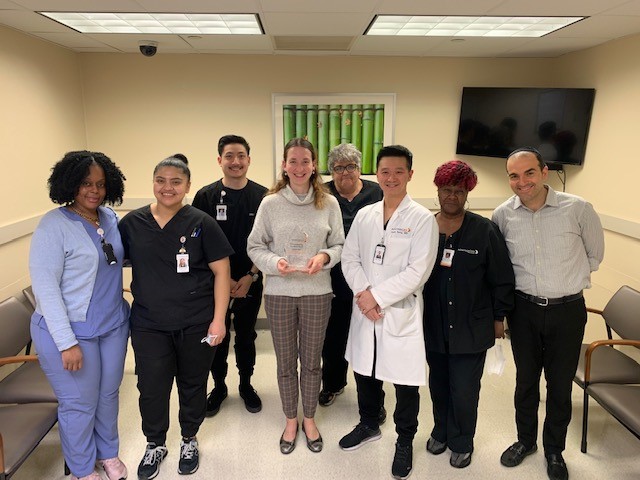 Dr. Karolina Kowalska, OD, accepting her Provider Recognition Award alongside practice employees at the ACPNY Kings Highway Medical Office. From left to right: Caroline Felix - Care Team Associate II, Olivia Elias Escalante - Ophthalmology Technician, Gary Wong - Ophthalmic Technician, Dr. Karolina Kowalska, OD - Optometrist, Debroah Cascone – Care Team Associate I, Dr. Keith Tung - Senior Medical Director, Cheryl Alexander – Care Team Associate I, Dr. Daniel Husney – Ophthalmologist. (Source: ACPNY)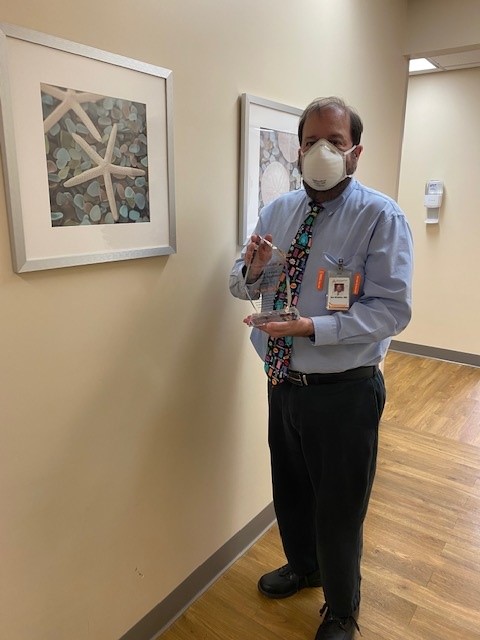 Dr. Ian Winkler, MD accepting his Provider Recognition Award at the ACPNY Ronkonkoma Medical Office (Source: ACPNY)


New York, NY – Providers from AdvantageCare Physicians (ACPNY), one of the largest primary and specialty care practices in the New York metropolitan area, were recognized for their significant contributions to the practice and within communities during the organization's Provider Recognition Awards held in January.

ACPNY's Provider Recognition Committee awarded seven providers from diverse care fields—including physician, nursing, optometry, and clinical social work—for exemplifying commitment and excellence to patient care, community service, education, and leadership throughout New York City and on Long Island.

"For the second year in a row, ACPNY is pleased to spotlight our diverse community of providers for the leadership, diligence, and excellence they bring to New Yorkers of all ages and backgrounds every day," said Dr. Navarra Rodriguez, M.D., President & Chief Medical Officer of ACPNY. "They enhance delivery of care for our patients by fostering a sense of understanding, inclusivity, and growth both within our medical offices alongside other team members and beyond in the communities we serve."

Below are the recipients of the ACPNY 2023 Provider Recognition Awards:


Patient Experience Excellence Award

Karolina Kowalska, OD was awarded for delivering compassionate and highly recommended care that enhances the patient experience.


Community Volunteerism Award

Dr. Sandra Nurse was awarded for demonstrating ability to engage the community we serve and enhance the health and wellbeing of the community


Mentorship and Education Award

John Greenbaum, LCSW-R was awarded for demonstrating ability to enhance care team and provider professional growth and development opportunities through mentorship and educational activities..


Diversity, Equity, & Inclusion Award

Dr. Haitham Ahmed was awarded for demonstrating ability to drive cultural competence, improving access to care, and creating a more inclusive workplace, through greater understanding of whom we serve..


Rising Star Award

Chelsea Gaeta, NP was awarded in recognition of provider's selection by their peers to deliver compassionate care and exceptional professional growth within their first 3 years of employment at ACPNY.



Executive Team's Award for Physician Leadership Excellence

Dr. Bruno Casanova was awarded by ACPNY's Executive Leadership Team for demonstrating leadership values through clinical and service contributions that enhance and improve care delivery, patient access and employee engagement and growth.



President's Award for Service Excellence

Dr. Ian Winkler was awarded by ACPNY's President for demonstrating ability to meet and exceed care delivery expectations by enhancing the patient experience and delivering exceptional quality care to every patient.
The Provider Recognition Awards are among the many programs ACPNY holds throughout the year to highlight employees' critical roles in patient care and experience, and fortify the practice's continued ability to serve New York's diverse communities.