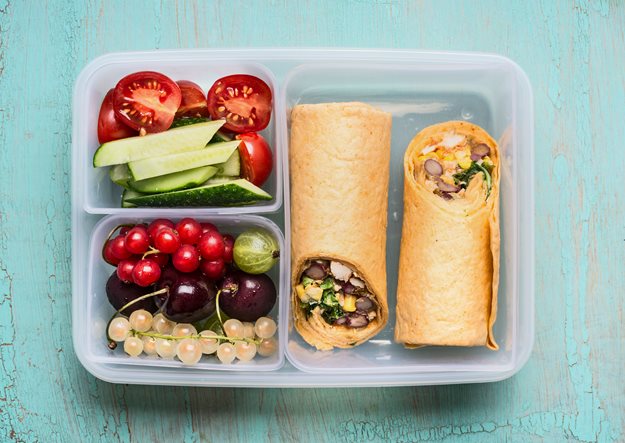 Ready for back-to-school? With busy schedules, it can be challenging to come up with healthy, kid-friendly lunch ideas every day. To help make packing lunch easier, here are nine ideas that cover the different food groups and are low allergenic, meaning they are safe for nut-free zones in schools.
A hummus sandwich with sliced cucumbers and bell peppers—or if your child isn't a fan of sandwiches, put the cucumbers and bell peppers on the side.
Quinoa and bean salad with small chopped vegetables, olive oil and vinegar.
Unsweetened pumpkin seed or sunflower seed butter and sliced banana sandwich (you can also use a sprouted grain wrap for a roll-up). Make sure to check with your child's teacher that there are no allergies to sunflower or pumpkin seeds in their class.
Mini raviolis with red lentil marinara sauce in a thermos. To make the sauce, just cook red lentils and add them to marinara sauce of your choosing. Your child won't know the lentils are in the sauce and they will add tons of fiber and some protein to their meal.
Plain Greek yogurt with berries, chia seeds, cinnamon and vanilla extract. Add a side of organic brown rice cakes.
Sliced avocado on sprouted grain toast with tomatoes, baby spinach and Dijon mustard.
Fresh mozzarella, basil, sliced tomatoes and arugula with balsamic vinegar and olive oil on sprouted grain bread.
Lentil soup and a serving of whole grain crackers.
Make a salad with any type of leafy greens/lettuces and their choosing of yams or quinoa; egg, tofu or tempeh; red cabbage, carrots and/or tomatoes and avocado. Add olive oil and lemon juice or apple cider vinegar for the dressing.