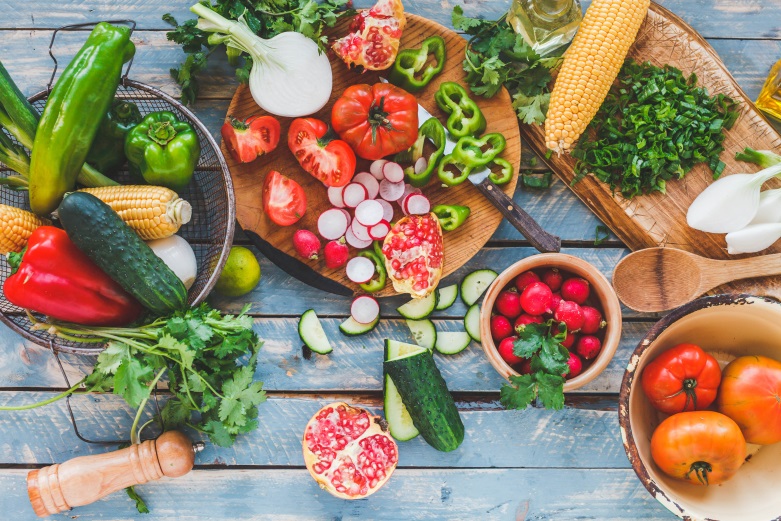 Now that summer has officially arrived, how many people are thinking to themselves, "I need to lose weight before I set foot on the beach?"

Well you're in luck, because summer is one of the best times to launch a healthy eating and fitness plan to trim those winter pounds. This time of year has many colorful varieties of produce in-season — like peaches, watermelons and cucumbers. Most fruit street vendors, supermarkets or farmers markets have a fresh variety of fruits and vegetables to choose from, most of which is low calorie, antioxidant rich and full of fiber.
Now is also a good time to set manageable exercise goals, like walking more, taking the stairs rather than the elevator or joining an exercise class at your local fitness center.

Many people have very aggressive weight-loss goals, while others want to shed the extra one or two pounds they put on over the colder months. While we all have the best of intentions when we begin a new diet, studies show that more than a third of us will give up our new diets within the first week.

However, all is not lost (pun intended). It IS possible to lose weight safely and successfully over the long term. You just need to understand the basic principles of weight loss as well as the proven tips and techniques that can help you shed those extra pounds.

A Formula for Weight Loss
It's long been known that weight management plays an important part in preventing chronic diseases such as diabetes, high blood pressure, high cholesterol and coronary artery disease (CAD). When it comes to the various ways to approach weight loss, there is evidence that weight loss achieved through a combination of nutrition and physical activity is most effective at reducing risk factors for conditions such as CAD.
To successfully lose weight, you need to take in fewer calories and increase your physical activity. Here are a few tips that will help.
Keeping a daily food log is an important first step to weight management. When you track your intake it helps you see how many calories you are taking in and where they are coming from. Aim to get your calories from healthy foods with nutritional value as opposed to high calorie foods such as sugary beverages and alcohol.
Your meal pattern can affect your success. The pattern of meals and snacks taken throughout the day can affect your sugar levels. By spacing out your meals, you can help keep blood sugars from spiking up and reduce the release of hormones that increase fat collection.
Be aware of your nutritional needs. The U.S. government's latest version of Dietary Guidelines for Americans makes it clear that your nutritional needs should be met primarily through the food you eat. However, for some people, supplements may be a useful way to get the nutrients they lack. Talk to your doctor about supplements and what doses might be appropriate for you. Be sure to ask about possible side effects and interactions with any medications you take.
Getting the right amount of exercise and physical activity is crucial. It's recommended that you get a minimum of 30 minutes of exercise five days a week. Look to add strength training to your routine to help maintain lean body mass.
Weight loss is easier when you have others around you who support your efforts. An often forgotten, but important component of successful weight loss is behavior change. As a physician, I often see patients using wearables to create a network of people with similar goals, which helps to motivate and encourage sustained weight loss.
On Your Way to a Healthier You
Losing weight safely takes time. The techniques and tips provided here should be part of your plan for gradual and consistent weight loss.


For more information about getting and staying healthier, get a customized Preventive Care Plan, based on your age, gender and any of your known conditions. You can schedule an appointment with your physician to discuss how to safely lose weight and answer any questions you may have.

Dr. Sunny Vikrum Malhotra is a cardiologist for AdvantageCare Physicians
Twitter: @drsunnymalhotra or @ACPNY.