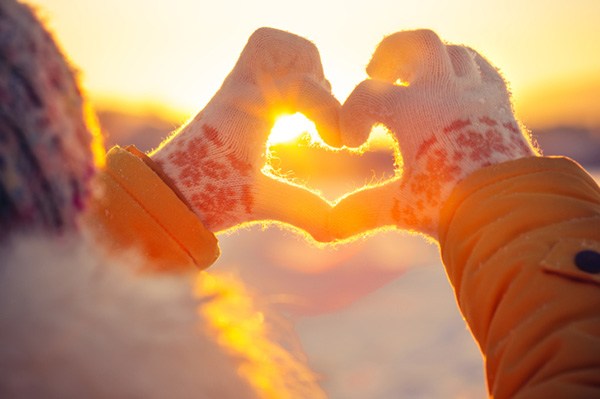 Aside from the brain, the heart is the hardest-working organ in the body and will function well only if taken care of. Cardiovascular disease ranks as the number one killer, but making the right nutritional and fitness choices in our everyday life will keep our hearts healthier for a lifetime.

The winter months are a high time for heart attacks. When there is a change in the ratio of daylight to dark hours, our hormonal balance is disrupted. What this means is that more cortisol is secreted and the chance for a dangerous cardiovascular event is higher. People will often shovel snow themselves, putting stress on their hearts and putting them at risk for heart attacks. In cold weather, the heart is working harder — requiring more oxygen — to maintain body heat, and it's not difficult to see that heart attacks can happen more frequently in winter.

Warning Signs of Heart Attack
Some heart attacks are sudden and intense where no one doubts what's happening. But most heart attacks start slowly, with mild pain or discomfort. Often people affected aren't sure what's wrong and wait too long before getting help. Here are signs that can mean a heart attack is happening:
A classic heart attack is marked by pain in the chest that may radiate down the left arm. Not always; sometimes it may feel more like a muscle pull in the back or neck.
Discomfort in other areas of the upper body. Symptoms can include pain or discomfort in one or both arms, the back, neck, jaw or stomach.
Shortness of breath with or without chest discomfort.
Other signs may include breaking out in a cold sweat, nausea or lightheadedness.
Similar to men, the most common heart attack symptom experienced by women is  chest pain or discomfort. But women sometimes experience other common symptoms, such as nausea/vomiting, bloating, gas pain and back or jaw pain. These symptoms can later result in presentation to the hospital, and more severe heart attacks. Learn more about the  warning signs of heart attack in women.
Here are some tips to control your blood pressure and prevent winter heart attacks:
Always keep warm to avoid stress on the heart — especially the elderly, who are most prone to cardiac conditions during winter time.
Weather permitting, walks should be continued during winter to keep in good shape. But, avoid exposure to extreme cold and breathing in cold air by placing a warm piece of cloth over your mouth and nose in cold condition. A fast walk in the mall is a good alternative in winter.
Exercise regularly to keep your heart well-conditioned. However, be very cautious about shoveling snow in your own driveway during the winter to avoid strain on your heart which can lead to a heart attack. Talk to your doctor about the kind and intensity of exercise that is right for you before you start it.
Limit or avoid food with a high salt content and food that can raise your blood pressure and put more strain on your heart.
Take your medicines as prescribed by your doctor.
Visit or call your doctor right away for any unusual signs and symptoms you feel suggest a heart condition. When in doubt, go to the emergency room or call 911 and get it checked out.
Talk to your doctor on ways to stay healthy during the winter; get a customized  Preventive Care Plan based on your age, gender and any known conditions. You can schedule an appointment with your physician to discuss your plan and answer any questions or concerns you may have.

Dr. Sunny Vikrum Malhotra is a cardiologist for AdvantageCare Physicians, one of New York's largest physician-led multispecialty practices serving half a million patients in 36 locations throughout New York City and Long Island.

Reference: American Heart Association